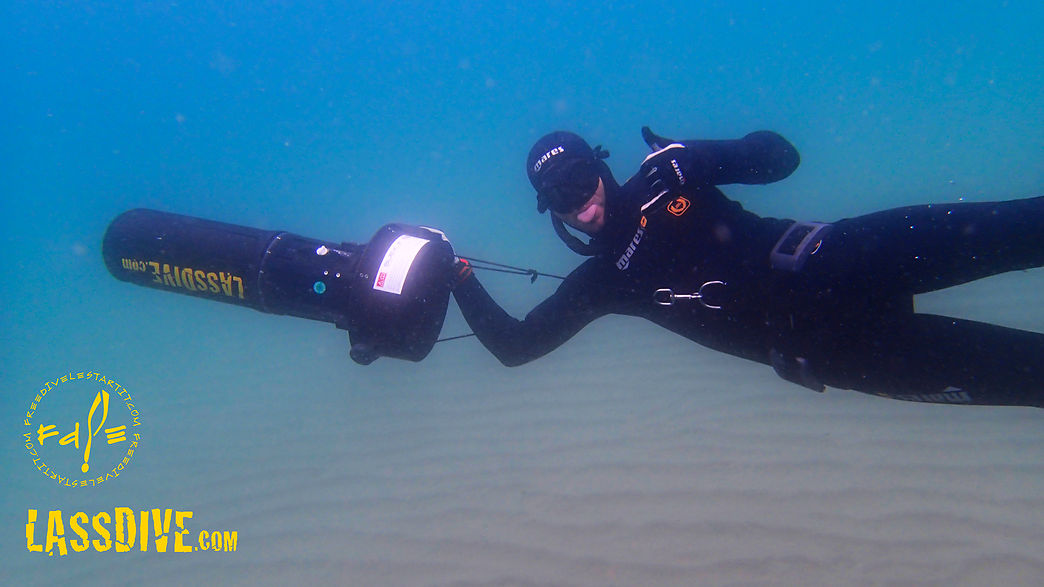 Scooter SSI freediving Specialty course in Costa Brava
Freedive l'Estartit offers SSI freediving with scooter (torpedo) specialty course in l'Estartit
Book now!
Scooter specialty course

Date and time to be confirmed with the center

130 €
Gift card
Freedive l'Estartit offers you the possibility to combine two funny, extreme and adventure-filled experiences!
What happens if we add a torpedo or Submarine Propulsion Vehicle (SPV) to our freediving sessions? Total fun!!!
With the scooter, as we name it in our freediving center, we will make the freedives unbeatable! We will be playing, looping, turning, going down, going up, and having loads of fun. And we will be able to travel longer distances in less time, thanks to the high power of these last generation scooters, which will make you have a better interaction with sea life in this part of the Mediterranean and Costa Brava. And in addition, the freedive will last longer because the oxygen consumption will decrease as the movements decrease.
In this specialty we will give you the necessary knowledge to know what it is and how to handle a scooter. First theory session and then two open water dives with the scooter, guided by an experienced freediving instructor who will make sure that you achive the perfect control of the scooter with all the safety requirements.
But you may want to learn how to control the scooter to use it in freediving competitions as a safety diver. We go through all this theory and practice as well!
The duration of the course can be one day or two days, depending on the student's availability.
You will get your SSI Scooter freediving Specialty certification once you've finished the course.
Freedive l'Estartit makes the course at our facilities in l'Estartit, Costa Brava, Girona, unless we indicate a different location in our freediving courses calendar, published here.
And if you want to go further and become a Scooter Specialty instructor, we also teach the course for it in the school.
And if you are coming by plane, train or bus and you need transfer to our scuba diving or freediving centers, you can contract the transfer service from the Girona Airport, Girona Bus & Train Station or Flaçà Train Station, through us. Ask for the conditions!!
Minimum age: 12
Maximum people: 2
Language:
Catalan
Spanish
English
French