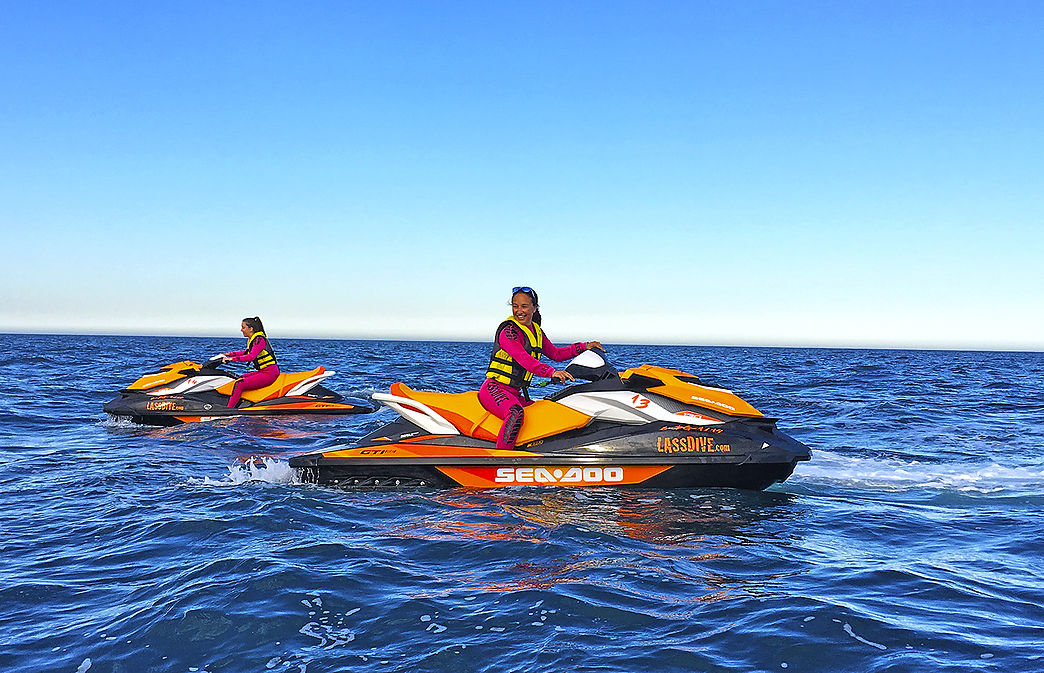 Jet Ski and wave runner rental in Platja d'Aro, Costa Brava, Girona
To rent a jet ski or wave runner in Port d'Aro to do a tour in Costa Brava, between Platja d'Aro, s'Agaro and Sant Feliu de Guixols
JET SKI IN PLATJA D'ARO IS TEMPORARILY CLOSED.
YOU CAN BOOK IN OUR CENTERS IN EMPURIABRAVA, L'ESTARTIT, GARRAF OR TORREDEMBARRA
THE ACTIVITY
Have you ever wandered why the Costa Brava is so popular? Have you seen it from the sea?
The piece of coast between Platja d'Aro, s'Agaró and Sant Feliu de Guíxols is specially representative of Costa Brava because of how amazing are the inlets, little corners and rocks. The perfect place to discover the Costa Brava from the sea, on a rental jet ski tour.
To rent a Jet Ski from Port d'Aro, the harbor of Platja d'Aro, now it's super easy as there is no license required to drive our new water scooters Bombardier Sea Doo GTI 130SE and Yamaha VX, with 130 horsepower.
All the wave runners from Lassdive are two-seaters, so you can drive together and switch drivers as many times you want to. And there is no extra cost for that.
And what makes us very special is that we will adapt to your driving. We can lead a full speed tour, with all the adrenaline and jumps, or we can have a really easy and relaxed tour to discover all the little corners around Platja d'Aro with your rental jet ski. You just come and have fun!!
THE TOURS
Each of our jet ski tours has its own enchantment and, whichever you will finally choose, you'll get a blast.
All the jet-ski tours distances will depend on the sea conditions and the driver's speed.
- 30min tour: guided tour around Platja d'Aro and s'Agaró
- 1h tour: guided tour from Platja d'Aro to Sant Feliu de Guíxols, through s'Agaró
- 1,5h tour: guided tour from Platja d'Aro to Sant Feliu de Guíxols, through s'Agaró, plus Palamos and Calonge
- 2h tour: guided tour from Platja d'Aro to Sant Feliu de Guíxols, through s'Agaró, plus the tour to the Sant Sebastà Lighthouse, through Palamos and Calonge
- 2h tour: guided tour from Platja d'Aro to Tossa de Mar, visiting the Tossa de Mar's Castle from the sea.
HOW TO BUY?
By clicking the shopping trolley at the end of each center's page.
You will be able to choose the jet ski tour that you like better before confirming the purchase.
Prices are per jet ski, either if they are occupied by one or two people.
Book your tour right now by choosing on our calendar which day and time you want to do the activity. Remember to arrive to our sports center 30 minuts before the choosen time.
If you are not sure about which day you want to enjoy the jet ski tour, don't worry! Just do not select any date in the calendar, and the system will process the booking with an open date :-)
WHERE YOU CAN FIND US?
The meeting point before the start of the jet ski activity is at our centre in Empuriabrava.
You can use the direct link to Google maps below to find us:
https://goo.gl/maps/rZpSKQQnkEuvttK56
Remember that it is important to arrive at least 30 minutes in advance in order to be able to sign contracts, change if you need to, receive the explanation correctly etc.
GET IT ALL ON VIDEO!
And now we offer you the possibility of getting the video GoPro Hero 7 service. Having this service, at the end of the tour you will get an SD card with the video taken by an on-board camera, placed in your jetski.
The price includes the SD card, and you can ask for it on-line during the booking process.
DON'T BE COLD...
And, if you think you are going to be cold, no worries! You can ask for a wetsuit to have a more comfortable tour.
If you want it, select the Wetsuit option during your booking.
I WANT TO GIVE THIS AWAY!!
So, you want it to give it as a present?
We offer you an Adventure Gift Card for free :-)
Giving away experiences is the present of the XXI Century, in a time where most of the people prefer to have new sensations and experiences, instead of things, so we are going to help you!
Just select the option Gift Card after choosing your favorite tour and complements and, in the comments field, say the name of the person who will get the experience gift.
As soon as we'll get your booking, we'll send you via e-mail our Adventure Gift Card, so you will be able to give it, printed or digital, to the person who you want to have this adventure experience present.
The Gift Cards are valid for one whole year, from the date they have been purchased.
To exchange the Gift Card, the person who got it needs to contact Lassdive through the telephone or e-mail, and book the date and time to do the activity. There is no need to contact Lassdive right after getting the Gift Card, but the sooner the booking is done the more chances will be for us to have availability for the chosen date.
HAVE YOU SEEN OUR SPECIAL DEALS?
The most amazing sport adventures together in this sports activities Special Deal, at a crazy price.
Check all our Adventure Activities Special Deals here!
ANY DOUBTS?
And if you have any question, don't hesitate to contact us, so we can help you with your on-line purchasing.
You can access our contact page here.
Minimum age: 16
Maximum people: 8
Language:
Catalan
Spanish
English
French
Required gear
Swimming wear
Towel