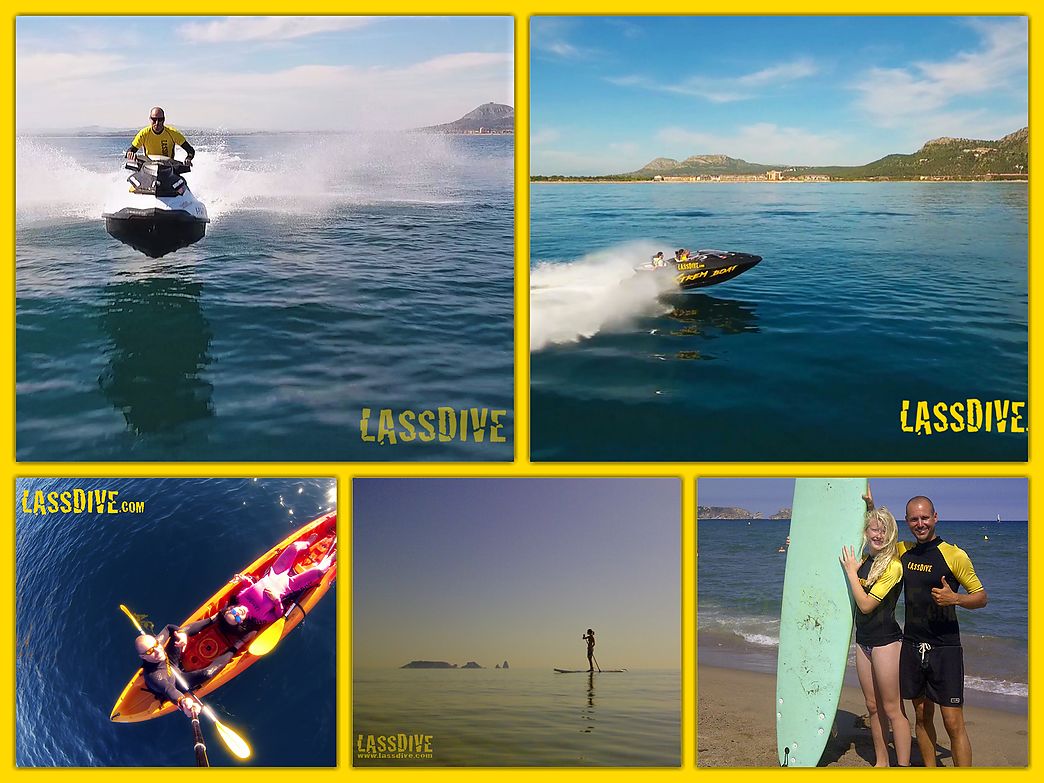 Lassdive's sports activities offer - La Foradada pack
Jet ski and Snorkeling and Kayak or SUP or Surf in Costa Brava
THE DEAL
Do you think Illes Medes Pack is too short?? Do you want more time to enjoy the adventures? We know it, so don't worry, with La Foradada Pack you have the same things but we lengthen the Jet Ski tour!
La Foradada Pack is conceived for four people and includes:
- 1h guided tour on two two-seats jet skis with which you will be able to appreciate the incomparable coast of l'Estartit and Begur, crossing Foradada cave and enjoy Medes Islands.
- Snorkel and Speed Boat for four people. Our speedboat with which you will enjoy the landscapes of the coast and the bravery of the Mediterranean, will take you to a beautiful crick in our amazin coast line, for snorkeling. Includes the snorkelling gear (mask, snorkel and fins). The whole tour has a duration of 2 hours aprox.
- Four kayak or SUP or surf rental for 3h to enjoy the beach of Mas Pinell in other way, paddling.
You can choose making the activities the same day or in different days. You can enjoy this pack only in our center of Torroella de Montgrí (Mas Pinell).
GET IT ALL ON VIDEO!
And now we offer you the possibility of getting the video GoPro Hero 7 service. Having this service, at the end of the tour you will get an SD card with the video taken by an on-board camera, placed in your jetski.
The price includes the SD card, and you can ask for it on-line during the booking process.
DON'T BE COLD ON THE JET SKI...
And, if you think you are going to be cold, no worries! You can ask for a wetsuit to have a more comfortable tour.
If you want it, select the Wetsuit option during your booking.
HOW TO BUY?
By clicking the shopping trolley at the bottom of each Special Deal's page.
Prices are per Deal, no matter for how many people are they for. Book your Special Deal right now, choose which day do you want to come on our calendar during the shopping process and, once it's done, we will contact you to agree the meeting time.
I WANT TO GIVE THIS AWAY!!
So, you want it to give it as a present?
We offer you an Adventure Gift Card for free :-)
Giving away experiences is the present of the XXI Century, in a time where most of the people prefer to have new sensations and experiences, instead of things, so we are going to help you!
Just select the option Gift Card after choosing your favorite tour and, in the comments field, say the name of the person who will get the experience gift.
As soon as we'll get your booking, we'll send you via e-mail our Adventure Gift Card, so you will be able to give it, printed or digital, to the person who you want to have this adventure experience present.
The Gift Card needs to be fully paid in advanced, as we won't ask for any payment to the person arriving to do the activity, so it's important that you choose "Bank Transfer" as a payment method, and wire the total amount of the activity price.
ANY DOUBTS?
And if you have any question, don't hesitate to contact us, so we can help you with your on-line purchasing.
You can access our contact page here.
Book now!
La Foradada pack

Price for 4 people (date and time to be confirmed with the center)

400 €

Photo & video service (including SD memory card)

25 €

Wetsuit rental

10 €
Gift card
Language:
Catalan
Spanish
English
French
Required gear
Swimming suit
Towel